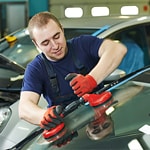 A car's windshield provides structural support for the cabin while also protecting the driver from wind and flying debris. It is almost inevitable that you will get a cracked windshield at some point during your time driving. A rock cracking the glass may not seem like a big deal, but it is something you need to take care of as soon as possible. There are just far too many risks to drive around Fredrick with a cracked windshield.
All windshield cracks are bound to get worse at some point. That tiny crack in the glass will eventually start to spread across the entire windshield. This is caused by the glass expanding and constricting as the weather changes in Tysons Corner. Allowing this to happen will turn a simple repair into a more costly and complicated job.
It can be very unsafe to drive around Sterling with a cracked windshield. Small cracks create minor distractions while on the road. It is just human nature to occasionally glance at the crack to see if it has started to get bigger. The sun can also hit these cracks and reflect the light directly into your eyes as you are driving around Fredrick. These vision issues become even more prominent as the crack expands across the glass.
A cracked windshield can compromise your safety if you have an accident. The windshield provides structural stability in frontal and rollover crashes. The glass is also more likely to break during a collision, which stops the airbags from properly deploying at full speed.
There is no need to risk driving with a cracked windshield when the problem is so easy to fix. All you have to do is schedule a repair with us here at Dulles Chrysler Dodge Jeep Ram. We will quickly repair or replace the windshield so you can get back to safely exploring Leesburg.