The Benefits of Jeep Tire Service and Replacement
How do you know when it's time to buy new Jeep tires for your SUV? As the tread wears down on your car tires from use, traction decreases, as does your ability to come to a complete stop in time. Before this risky and dangerous result occurs, it's important to keep an eye on the tread level, tire pressure, and the overall health of your Jeep tires. As soon as you see scalloping develop on the tire tread or notice uneven tire wear, then it will be time to visit the Dulles Chrysler Dodge Jeep Ram tire center. Not only do worn car tires take away from traction while driving, decrease gas mileage, and contribute to poor handling, but they are also unsafe and can lead to inconvenient or dangerous Jeep tire repairs down the road. New Jeep tires can restore smoother handling, increase gas mileage, and enhance the overall safety of your SUV. To learn more about Jeep tire replacements, contact the automotive specialists in Leesburg, VA, during our business hours Monday-Saturday.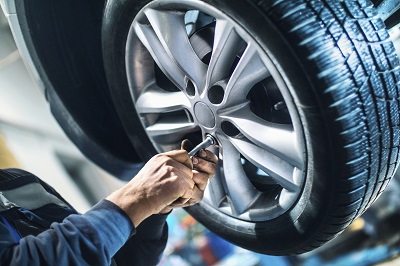 Schedule Tire Service | Dulles Chrysler Dodge Jeep Ram
Are you ready for a Jeep tire consultation or tire alignment? Do you need help choosing the right Jeep performance or off-road tires for your Jeep SUV model? Then be sure to enlist the expertise of our certified Jeep tire center in Leesburg, VA, for all your new Jeep tire purchases, Jeep tire replacements, and Jeep tire consultation needs. To take the next step from the convenience of your home, you can schedule a Jeep tire consultation with us online now. Don't wait any longer to get the tires your Jeep vehicle deserves.
Jeep Service: 

(703) 436-1580

Jeep Parts: 

(703) 651-2316
Hours
| | |
| --- | --- |
| Monday | 9:00am - 8:00pm |
| Tuesday | 9:00am - 8:00pm |
| Wednesday | 9:00am - 8:00pm |
| Thursday | 9:00am - 8:00pm |
| Friday | 9:00am - 8:00pm |
| Saturday | 9:00am - 8:00pm |
| Sunday | 11:00am - 5:00pm |